Those of a more highly developed religious sensitivity might want to look away now.  Those looking for a new lead climbing route might want to read on.
"Why Messiah?" Josh looks up at the route he has set to test the lead climbers. "Because there is a section under that volume up there where there is that big orange sloper and in order to get through that crux you have to assume a near cruciform shape with your arms outstretched and your two feet together.  With the foot swapping that entails."
At 7a it's a challenging climb too, so you might be tempted to take the Lord's name in vain at that point. "It's really good that we've got the flood lights in there now because that brings it to life at night when the climbers try the lead routes."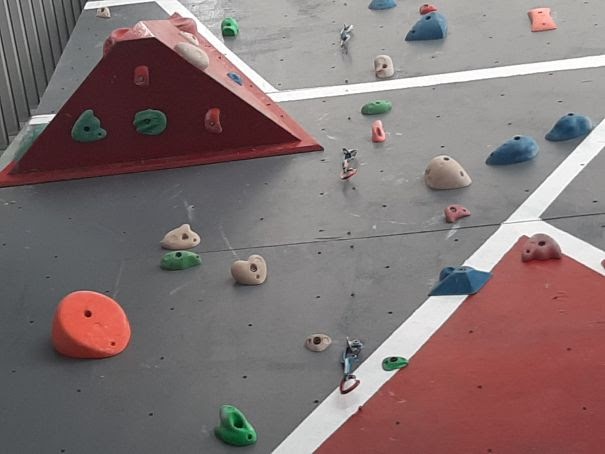 LET THERE BE LIGHT
"There are three crux' in the space from the halfway point to the top with a mix of crimpers, slopers and pinches.  I've had one person try it already, but he hasn't finished it yet. It's not impossible, you don't have to be super strong but you do have to be committed.  There's a stage that demands a dyno and it's at a point where you're locking off on a smaller crimper so if you hesitate and start wondering which hand to reach out with you'll be too pumped up to hold.  So you have to stop thinking and go for it. Kind of a leap of faith."
"It's challenging but there are a few Pushpeeps out there who are getting really strong." So come give it a go and test your lead climbing skills on our dedicated lead wall.  Enlightenment awaits.
If you would like to find our more about our new routes or our team of setters be sure to check out the "On The Wall" section of our blog for more!