The first of its kind in Vietnam, SufferFest is the brainchild of Bozo Ventures with Push Climbing as a proud partner.
Billed as 'A Celebration of human progress and personal growth' it includes the country's first SwimRun and combines endurance sports, bouldering, top rope climbing and kids' sports to give adventure athletes a whole new menu to choose from.  Push spoke to SufferFest organiser and all round good guy Russel Johnson about what Sufferers have in store for them.
Push: Where did the idea for SufferFest come from, and why here, why now?
RJ: The idea for SF started around three years ago with our first visit to Dalat's Tuyền Lâm lake. In those times – late 2015, early 2016 – we were one of just a few who were exploring the possibilities for organized participatory sports in Vietnam. People were still not into the idea of being outside, under the sun in the heat and definitely not eager to exert themselves physically in those conditions. Dalat's natural environment; fresh air, cooler temperatures and landscape offers relief from the intrinsic stress of city hustle.
Push: What makes SufferFest different from other adventure competitions?
RJ: Unlike other events we are building something for everyone. Niche sports like; Vertical (climbing competitions), Black-Sheep (breakdance battles), Hybrid (CrossFit/Ninja like challenges), will capture the attention of endurance athletes finishing their long distance addictions and looking for evening entertainment. Meanwhile shorter distance mass-participation running events and additional kids' sports and events will give families great ways to join in.
Push: SwimRun is new to Vietnam, although growing fast in Europe. Why do you think SwimRun will appeal?
RJ: If you asked me that before we launched ticket sales I would have had a different answer, but since launching, SwimRun has become a focal event that has captured the most attention. A great number of triathletes in Europe have started to take on SwimRun as a more affordable and less cumbersome sport to take part in. SwimRun opens the sports world to new racing environments while reducing equipment costs compared to traditional triathlons.
Push: Quick question on the SwimRun – what is the total swim distance and number of swims? What is the run distance and number of runs? Are you expecting wetsuit use?
RJ: The first SwimRun will consists of seven swim laps with varying lengths from 140meters to 900meters. When designing the race courses we took into consideration the natural flow of the landscape. We couple that with certain ratios that we wanted to maintain such as aiming for a 20-30% of the SwimRun to take place in the the water. We have provided gear guides online that clearly outline mandatory equipment requirements and one of those items is one of; Wetsuit, Trisuit or SwimRun suit.
Push: There are two runs – on and off road? What was the thinking? Two tribes?
RJ: Honestly it just came down to navigating some great running routes. Hence the odd 14km distance. That run route was naturally an odd distance but it felt silly to try and force a distance reduction to 10km just to fit expectations. It's a beautiful, quiet, easy on the eyes and soulful route that just happens to be that long. The 21km was the same. The destinations in the area were too good a treasure to pass up and they just happen to be off-road.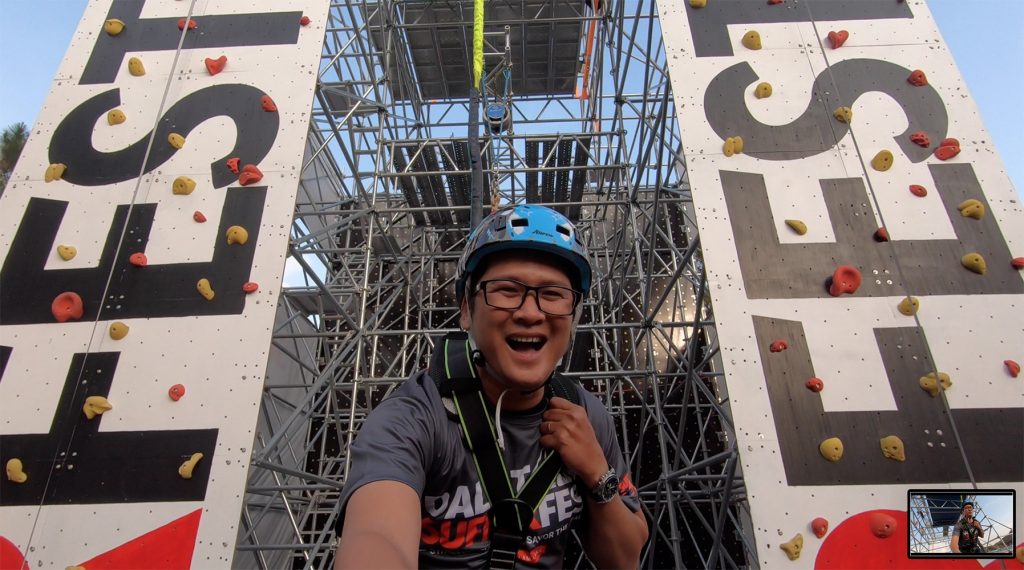 Push: And the climbing?
RJ: Our core business is building and operating adventure rigs and games such as climbing walls ,zip-lines, free fall towers, giant rope swings, ninja warrior rigs and obstacles. We added Vertical as a climbing competition because it's just good fun and we love climbing. Climbing is scored in a unique way. Everyone starts with a set amount of points. Climbers lose a set value of points for failed attempts and gain various points for successful attempts. the harder the problem the higher the point value. It's really that simple.
SufferFest aims to eliminate single use plastic and pledges to leave Dalat's Tuyền Lâm Lake as beautiful as it found it. To find out, and sign up for the inaugural multi-sport event in February, visit the web site.
Words by Steve Shipside.