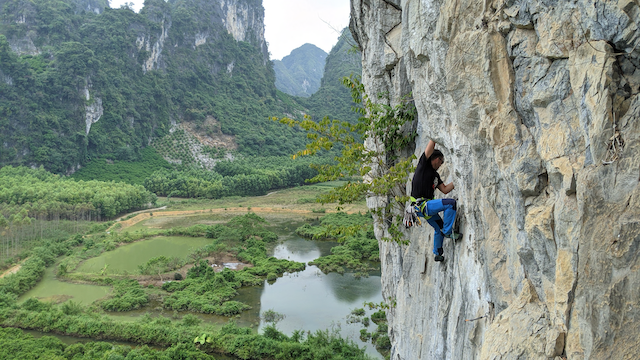 Climbers from around the world who live in Ho Chi Minh City, Viet Nam traveled to sport climb for 10 days in Huu Lung, Viet Nam during October 2020. I joined the climbing holiday together with the Push Climbing team, and I want to share with you why I fell in love with this magical mecca of climbing.
WHY I FELL IN LOVE WITH HUU LUNG- 
I am an American climber who has traveled to outdoor sport climb in various places with a diversity of styles of rock around the world. To be honest, Viet Nam was not on my radar nor have I had much guidance towards the rare climbing that Viet Nam offers. I heard of the infamous deep water soloing in Cat Ba, but my knowledge stopped there. Luckily, when I moved to Viet Nam in early 2020, I quickly learned about Huu Lung from the generous Saigon climbing community. With the visually intoxicating scenery around every corner combined with the diversity of rock style; this place is a climbing gem.
"Huu Lung overall is great for climbers. The potential is endless. The quality of the limestone cliffs are great."

Joshua Tesoro Suson. 

Huu Lung is tucked away in a small providence where you can find a unique, glistening green landscape, widen smiles by the youth, and cattle. This climbing paradise is located roughly two hours northeast of Hanoi in the countryside. Full of a humble community that welcomes all climbers to their farms and land surrounded by breathtaking limestone cliffs.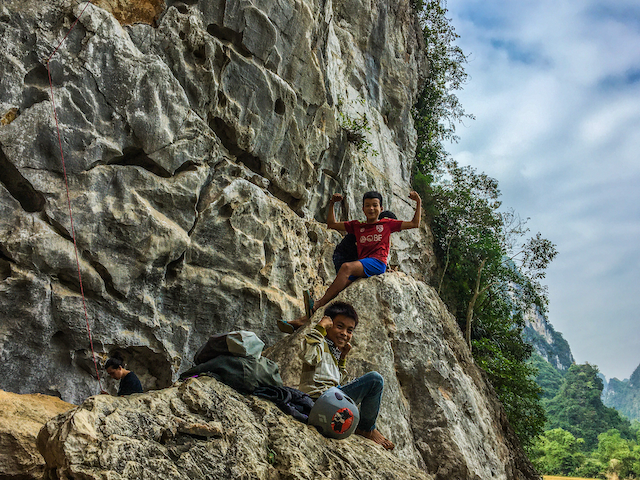 During our 10 days spent in the area, we were greeted with perfect weather, little rain, and comfortable temperatures for the most successful climbing. We laughed, we cried, we drank too much rice wine and we climbed even harder. We shared memories for the books. 
WHAT ABOUT THE CRAGS AT HUU LUNG?
Huu Lung offers 10 crags. The crags offer a variety of climbing for beginner levels to experienced climbers with an expansive diversity of rock formations. The routes are well protected with a clean and accessible approach hike to each crag. 
"The routes average 30-35 meters and have different styles with tufas, steep walls, slabs, and more. I have climbed a lot of routes in Huu Lung and there are 2 specific routes that I really enjoyed climbing. One is "Mắm tôm a 7a+/5.12a". It is a 35-meter route on "Dragon Wall" that starts off with an easy slab for about 8 meters and it goes steep all the way to the anchors. The style of climbing is very sustained. The other route is "I Have A Dream a 7c/5.12d". A 30-meter route in Woofstuck. This gave me sustained climbing on a vertical wall with a lot of good crimps and beautiful sequences all the way to the anchors. I marked those 2 routes as mega-classics.

Joshua Tesoro Suson
Click here to learn more about Woofstuck in Huu lung in our Fave Climbs Blog.
The crags offer around 110 bolted routes by VietClimb with an average of 30-meter sport routes from anything between 5a – 8c/5.6 – 5.14b. Each crag gives a perspective that you are going off the beaten path with stunning views of lakes, limestone cliffs and offers total solitude.
If you have the extra time and are willing to drive a little outside of the centralized area, you can locate "The Arch". 
"The arch gave me the satisfaction of understanding I can actually appease my inner wonderment quite easily. The drive is a perfect distance. The small scramble leads to a view that beats all the other walls in Huu Lung. The Arch is clearly unique and personally, it showed me a large piece of the structural personality Huu Lung has to offer. Each route is very different from anything else in the area.

Thomas James-John Hennekes
You can locate full information and map of Huu Lung from The Crag.
The hardest route that I have sent in Huu Lung so far is "Tominator" an 8a/5.13b at the "Squirrel Wall". It took me three tries to make the Second Ascent of the route. It's a 35-meter route that starts with a bouldery, crimpy, pinchy, slightly slabby all the way to an easy 10 meter 6a+/5.10c with a super good rest. Then it goes up to a really steep section with around a 30-degree overhang wall with crimps and pockets. Overall, a great and fun route. I would highly recommend this route for people who are climbing around 8's or 5.13's."

Joshua Tesoro Suson
On those much-needed rest days after sending these epic projects, you can take the motorbike around to explore the breathtaking and stunning views or trek to the waterfall located 20 minutes outside of the central area with an additional 20-minute trek. You may also simply support your fellow climbers by cheering them on and keeping the morale high on the crag.
MAO AND DUC COMPLETE THE PACKAGE- 
If and when you decide to plan your trip to Huu Lung, you can contact Vietclimb to connect you with one of two wonderfully offered homestays each located in the heart of the area. All of the crags are only 1-3 Kilometers away with a quick motorbike or even a walk if you feel like getting a small warm-up or cool down in.
I had the pleasure of staying at Moa's homestay with his delightful family. Mao's is centrally located between the crags in Huu Lung. Mao and his family take in all climbers with a smile and a massive heart. I was even fortunate enough to have landed soon after a litter of 8 puppies was born! 
Each climber was exchanging beta at Mao's homestay every morning ready to send or project their next climbs. The same energetic drive maintained on the crag and then was followed in the evenings by sharing the beta and struggles and victories of the day climbing. 
The atmosphere was non-judgemental allowing all climbers from all levels and experience to do what makes them the most connected to their passion of enjoying nature and climbing the rock. Everyone supported each other's personal goals and cheered on with exuberant joy. 
"This place helped me reconnect my mind, body, and soul. The sheer joy of being outdoors at the mercy of the elements, wrestling the drag of the rope at the top of the climb, and looking down upon every meter conquered was something I didn't know I needed. This trip helped me reconnect with a chapter of myself which I hadn't read in a long time.

Paul Massad
If you are more interested in staying on a crag, you can stay with the welcoming Duc whose property sits on the foot of one of the most popular crags, the Woof Stuck crag. Docs offer a little more privacy in terms of sleeping arrangements but the quality of service is equal to Mao's place in warmth and hospitality. 
SUPPORT VIETCLIMB AND THE CLIMBING COMMUNITY- 
Follow VietClimb to learn more about the team of passionate climbers from around the world who have spent the last 10 years formulating the climbing in the north. Myself along with all the climbers in Viet Nam are grateful for the work towards this project and will do what we can to continue to support the outdoor environment while making it safe and approachable. 
You can also follow Nival, who is documenting the community throughout the country. Nival captured some beautiful moments from this trip.
START LEAD CLIMBING AND JOIN THE ADVENTURE – 
The sport of rock climbing is exhilarating, life-changing, and full of an engaging community that will keep you coming back for more. But just like any sport or passion, you must be patient of the awareness of the time it takes in your body and mind. Mai Ly, an experienced female climber who joined the trip to Huu Lung shares: 
"My second trip to Huu Lung, I was so disappointed in my performance. I was not feeling that I was conditioned and my mindset was not good. This recent trip to Huu Lung, it was so satisfying flashing a grade that was above my grade from my last trip. I even experienced projecting a route. Even though I did not send the route, I enjoyed the challenge. It made me want to train even harder to achieve my project and project even another route! I was able to project a grade that I didn't even achieve indoor and that was way above my capacity. I also like the fact that Huu Lung has a variety of routes from easy to hard. I can then progress without worrying about not having any routes to climb"

Mai Ly Cheron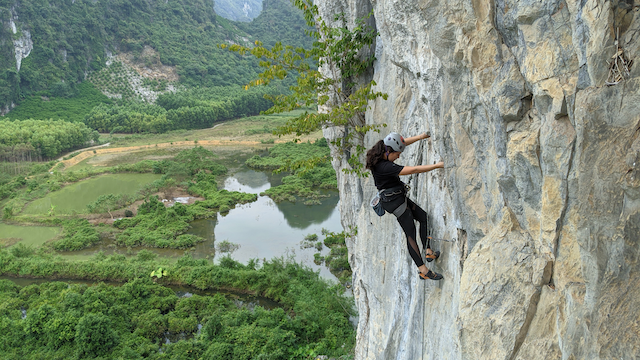 If you are feeling motivated to join the hype and you feel that now you want to aim to train to be an experienced outdoor climber? Or maybe you are an experienced climber, but have not tried to climb outdoors?
Push climbing's professional, experienced, and certified instructors will soon offer a Lead Climbing Course. Stay tuned for more information from Push Climbing to register to take your climbing to the next level.
Climbers of all levels and experience in Ho Chi Minh City are also fortunate to have access to three climbing gyms, Push Climbing, Vertical Academy and Saigon Climbing Center. Take advantage of this. You will not be disappointed. 
Thank you to all the climbers, the community of Huu Lung, Moa plus his family, and Push Climbing for motivating the climbers in Saigon to climb harder. 
CLIMB ON & CHEERS!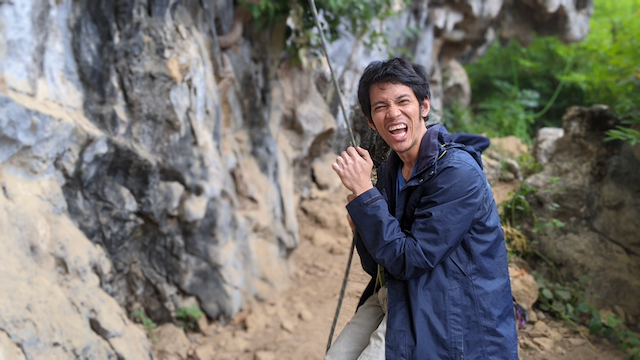 Words by: Ally Fleckenstein
Photographs by: Ally Fleckenstein, Aymeric Cherson