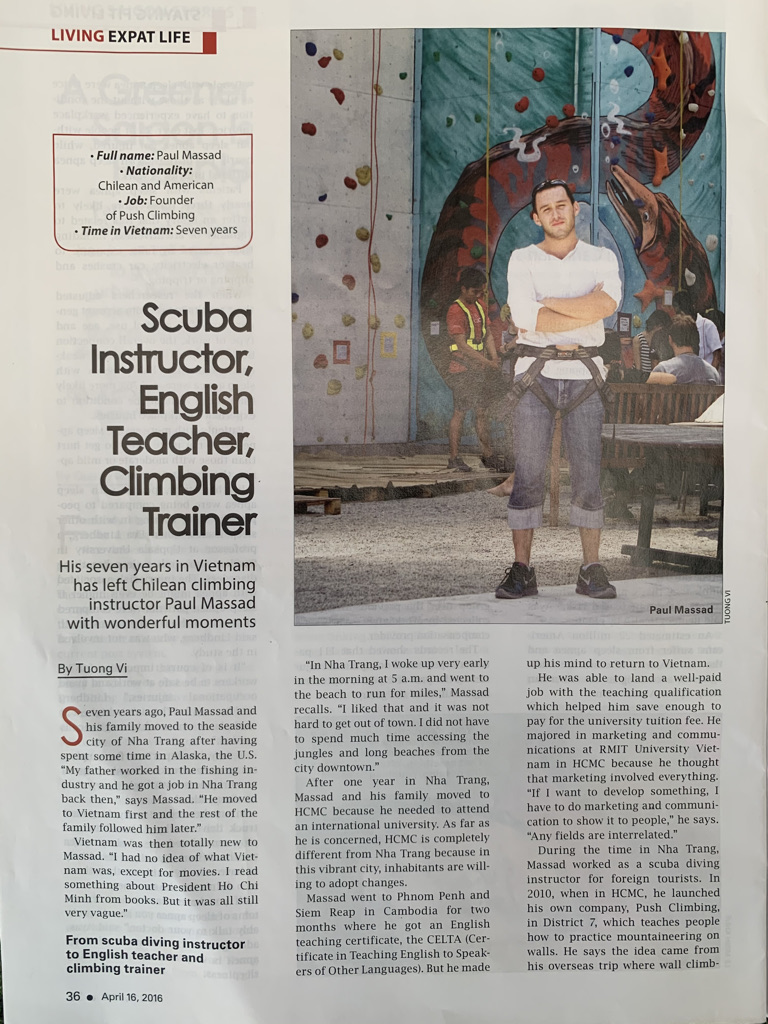 REPUBLISHED FROM THE SAIGON TIMES. 
Full Name: Paul Massad
Nationality: Chilean and American 
Job: Founder of Push Climbing 
Time in Vietnam: Seven years. 
His seven years in Vietnam has left Chilean climbing instructor Paul Massad with wonderful moments. 
By Tuong Vi. 
Seven years ago, Paul Massad and his family moved to the seaside city of Nha Trang after having spent some time in Alaska, the U.S. "My father worked in the fishing industry and he got a job in Nha Trang back then," says Paul Massad. "He moved to Vietnam first and the rest of the family followed him later." 
Vietnam was then totally new to Massad. "I had no idea what Vietnam was, except for movies. I read something about president Ho Chi Minh from books. But it was all still very vague." 
From Scuba diving instructor to English teacher and climbing trainer. 
"In Nha Trang, I woke up very early in the morning at 5 a.m. and went to the beach to run for miles," Massad recalls. "I liked that and it was not hard to get out of town. I did not have to spend much time accessing the jungles and long beaches from the city downtown."
After one year in Nha Trang, Massad and his family moved to HCMC because he needed to attend an international university. As far as he was concerned, HCMC is completely different from Nha Trang because in this vibrant city, inhabitants are willing to adapt to changes. 
Massad went to Phnom Penh and Siem Reap in Cambodia for two months where he got an English teaching certificate, the CELTA ( Certificate in Teaching English to Speakers of Other Languages.) But he made up his mind to return to Vietnam. 
He was able to land a well-paid job with the teaching qualification which helped him save enough to pay for the university tuition fee. He majored in marketing and communications at RMIT University Vietnam in HCMC because he thought that marketing involved everything. "If I want to develop something, I have to do marketing and communication to show it to the people," he says. "Any fields are interrelated." 
During the time in Nha Trang, Massad worked as a scuba diving instructor for foreign tourists. In 2010, when in HCMC, he launched his own company, Push Climbing, in District 7, which teaches people how to practice mountaineering on walls. He says the idea came from his overseas trip where wall climbing was considered an outdoor activity that lured a large number of people. "Everybody joined together – kids, parents with kids, and grandparents. They all go climbing." 
Climbing is a popular sport in many countries but not in Vietnam. "The foundation of Push Climbing came from the need," says Massad. "I wanted it to be a place where I could be myself, build anything I wanted and it was the only way that I did for myself." 
Massad admits that he is not good at team sports, so climbing is a way of being together with friends but challenges myself without a feeling that I am part of a group and if I make a mistake and let the group down or I have to coordinate with many people."
Love comes from respect 
Apart from climbing and scuba diving, Massad also loves riding motorcycle, running, skateboarding and surfing. "Any sport has its own fun," he says. "I can play anything. My hands work. I have two legs, one head, and two eyes, so I learn basically anything." 
He has never forgotten his memory during the time in Vietnam. "It's the transition time between Nha Trang and HCMC. That was the best time because I had free time to go to Thailand, Cambodia, and I hadn't gone to the university yet. So I rode a lot with my motorbike, discovered many places, and worried about nothing."
Massad says he does not want to do the same job as his father does in the fishery sector because he is different. "I love my father but love comes from respect. And respect lets me choose what I think is best. My father never tells me that I'm doing wrong. He agrees with a lot of things that I do. He's always here when I'm in need of him, anytime I feel down and have problems." 
From respect, Massad still wants to live in Vietnam although his family members now are not in the country.
PUBLISHED FROM :
The Saigon Times. 
No.16 – 16' (1281) April 16, 2016
Published by SAIGON TIMES GROUP * ISSN: 0868-3352.
LIVING EXPAT LIFE Page 36 * April 16, 2016
Translation by : Trang Bui
Written by : Tuong Vi. 
Original Article Published by : The Saigon Times
Re-published by : Ally Fleckenstein
Learn more about Paul Massad here.