Brace yourself for what will come next. Push Climbing D7 is ready to show you what to expect for our new location coming in 2021. Push Climbing D7 will be located in Phu My Hung inside The Crescent Mall in Ho Chi Mihn City, Vietnam.
Watch this short video to catch a look!
CLIMBING AREA AND FACILITY DISTRIBUTION- 
This climbing gym and the facility are here to offer you 100% experience for all. 
Push D7 is here to offer:
1,500 with Square Meters of JUST climbing wall space. 
60% roped climbing wall. 
25% bouldering wall. 
15% student and team-building learning wall space.
BREAK IT DOWN NOW-
 22 Autobelays powered by TruBlue the most advanced in the world to ensure the highest safety measures. 
Bouldering wall topping out at 5 meters.
 Augmented Reality Wall offering 4 modules for projection to entertain for games and activities for all age groups. By ValoClimb
Classrooms dedicated to our Rock School to educate the community about the safety elements and climbing experience. 
Classroom space available for partners in health and lifestyle-related workshops for all ages and open to all trends. 
Indoor cafe offering healthy snacks, healthy meals, coffee, and beer.  
Co-working space for all ages. 
Shower, bathroom, and locker space to stay clean before or after your climb.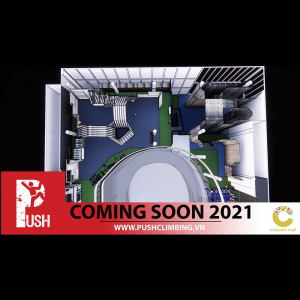 Classes offering zero to hero, safety, climbing basics to the most advanced climbing. 
Team building for corporate companies, local communities, schools, universities, friends, or family. 
Climbing Workshops for all levels. 
Decathlon Click and Collect point for those who prefer the online shopping experience. 
Event space holding up to 150 pax.
STAY TUNED TO SEE MORE DETAILS ON WHAT TO EXPECT NEXT FROM PUSH CLIMBING D7- 
You can expect to see Push Climbing releasing detailed information and videos on each of the features that this epic gym will Saigon. You can follow our YouTube playlist here as we release information over the next couple of months.
Please continue to follow us on this exciting journey to learn more!
JOIN US TO WATCH A FULL TRAILER OF PUSH CLIMBING D7 WITH THE COMMUNITY-
Friday, the 18th of December join the Vietnam Climbing Forum. Push Climbing, Nival, Vietclimb, Saigon Climbing Center, and Vertical Academy plus the dedicated climbers in Vietnam will attend this forum to showcase climbing in Vietnam. Follow here for more information on the event hosted at Push Climbing.
Push Climbing will release a full trailer showcasing the features for the Push Climbing D7 location.
Hope to see you there! Cheers and Climb On!
Words by: Ally Fleckenstein
Video by: Paul Massad