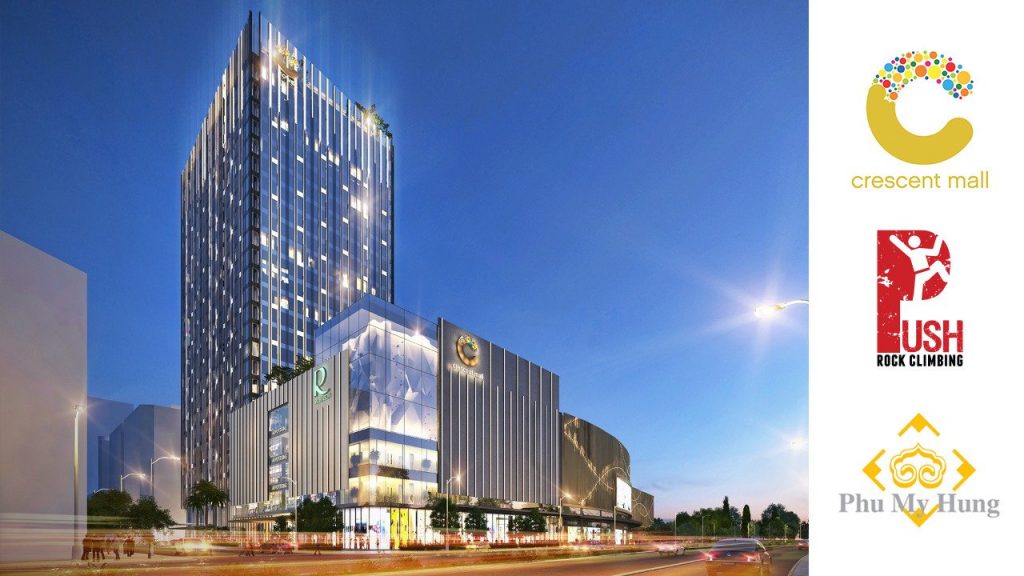 Push Climbing, Phu My Hung, and The Crescent Mall are partnering to announce the opening of a world-class rock climbing gym facility inside phase 2 of The Crescent Mall, District 7, Ho Chi Minh City. The rock climbing experience will open in 2021. Since 2016 Push Climbing has called Thao Dien in District 2 it's home. Developing climbers of all backgrounds, this has allowed them to expand their location to The Crescent Mall. Push Climbing may now further their capabilities and training facilities for climbers and the community in District 7 for the ultimate experience.
CLIMBING- FOR STRONGER INDIVIDUALS, AND STRONGER COMMUNITY.
Phu My Hung is known for its diverse population with a lively mix of international and Vietnamese elements. Push Climbing and Crescent Mall are adding to that with a climbing gym that is about more than a single sport – it's a complete lifestyle, community, and well-being center.
In order to meet the demands of today's market, we believe that malls need to evolve from just a place where you can purchase things to a place where people bond, build memories and share experiences. It's really all about the experience and the level of quality service that matters.

Eva Cecilia Foronda Tanglao
WHY A ROCK CLIMBING GYM? 
There's a reason why rock climbing gyms have been sprouting in major cities all around the world. They challenge individuals and teams of all types to combine the best of physical and mental fitness to navigate and overcome obstacles. A wide range of challenges and approaches means that climbing is perfect for all levels and all ages from complete beginners to seasoned athletes. Push Climbing has already proven it's reputation and guarantees safety for all with its controlled environment, specialist safety equipment, and highly qualified staff.
You can watch more of Push Climbing's Online Climbing Course here for more information around the professionalism and quality service that Push Climbing offers in Ho Chi Mihn City, Vietnam.
WHAT DOES THAT MEAN FOR DISTRICT 7 AND Phu my hung?
Climbing is about the community. There are as many reasons to climb as there are different types of people that come to challenge themselves on the wall.
If you are looking for a place where the kids can let off steam safely while learning about their limits? These personally supervised climbing challenges are the answer. 
Searching for a corporate team-building event that emphasizes trust and mutual reliance? Then this is the venue.
For individuals, a climbing gym offers a full-body fitness experience but also a place to meet people, and simply hang out, and enjoy the rich and diverse community of District 7.
Push Climbing is already famous for its existing climbing gyms around South East Asia and will be bringing a bigger and better version to District 7.
True to our pursuit to constantly finding ways to provide ultimate fun and excitement to our dear shoppers and the community, we are very excited to announce that the largest indoor wall climbing facility in Vietnam is opening soon in Crescent Mall – Push D7. This project, in collaboration with Push Climbing, is a top-notch indoor wall climbing facility with international standards comparable to climbing gyms in neighboring countries with more mature climbing community as Malaysia, Hong Kong, Singapore, etc. The opening of push d7 is definitely a very good addition to Crescent Mall's mix as we further incorporate fun, lifestyle, music and arts into the mall."

Eva Cecilia Foronda Tanglao.
MORE ABOUT PUSH CLIMBING. 
Push Climbing has been bringing together the Vietnamese and international communities in Vietnam for the last decade. Best known for its flagship installation in Thao Dien, District 2, it has grown its membership and installed climbing installations around the city and beyond by bringing climbing gyms and outdoor facilities to South East Asia. Push Climbing builds facilities not only in Vietnam, but also in Thailand and Myanmar. 
Push Climbing is dedicated to a unique, active lifestyle that is safe and engaging for all. Push's community of climbers continues to expand as understanding grows of the physical and mental benefits of challenging yourself in safe and supervised surroundings.
The Crescent Mall and Phu My Hung have chosen Push Climbing's expertise to build a unique three-floor world-class climbing gym and ensure the safe and smooth running of the new rock climbing gym opening in 2021.
STAY CONNECTED AS WE BUILD THE WORLD CLASS ROCK CLIMBING CENTER AT THE CRESCENT MALL. 
Do you want to learn more? As the project nears completion Phu My Hung, The Crescent Mall, and Push Climbing will provide regular updates on the following website.
Words by: Ally Fleckenstein
Video by: Chris Taljaard